Shabbat
"Shabbat is a palace in time" -Abraham Joshua Heschel
Kabbalat Shabbat Services
Join us Friday night at 7:30 pm for Shabbat Services led by Rabbi Jillian Cameron and Cantor Juval Porat and community members to joyfully welcome Shabbat through soulful song, prayer, creative teachings, and communal connection.
BCC's Friday Night Siddur, prayer book, is a living document first written and compiled in the '70s by BCC's ritual committee. Under the leadership of member Harriet Perl z"l, BCC's Siddur was one of the first, if not the very first, Reform prayer books to be written in gender-neutral language. Our Siddur contains many translations and readings written by members, including LGBTQ+-inclusive and feminist liturgy not found in any other prayer book.
How to Access Shabbat Services
Zoom
You are welcome to join our budding Zoom havurah to enjoy services with old and new friends and your BCC family. To Register for our Zoom Shabbat Watch Party click here
Facebook Live
Our service is streamed live on Facebook every Friday evening, beginning at 7:30 PM. To view our services via Facebook, you do not need a Facebook account. It is free and available to anyone with an internet connection. To watch services via Facebook Live click here.
Saturday Morning Services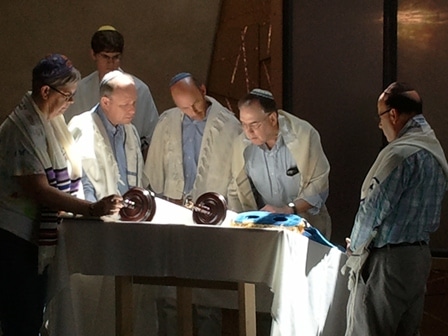 Saturday morning Shabbat services, every 3rd Saturday of the month, 10 am – noon.
Join us for traditional-style Shabbat morning services infused with BCC's informal, welcoming spirit and the warmth of community.  Rousing melodies, Torah reading, and insightful discussion of the week's Torah portion. Learners welcome.  Once you try it, you won't want to miss it.  Kiddush and vegetarian potluck always follows the service.
Due to the Covid 19 Pandemic, we are conducting Shabbat Morning Services via Zoom. To register to attend, please click here.