Rabbi Lisa Edwards, Rabbi Emerita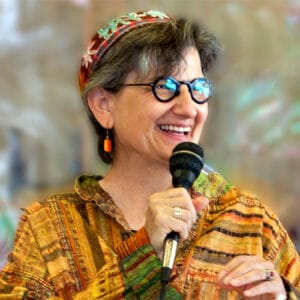 Rabbi Lisa Edwards, Ph.D., has been a Jewish lesbian activist from the pulpit, on the page and on the Web, in the classroom, and in the streets of Los Angeles for over two decades. From 1994 until 2019, she served as rabbi of Beth Chayim Chadashim (BCC), "House of New Life," the first synagogue in the world founded by gays and lesbians [1972], and today an LGBTQS inclusive, progressive, diverse community celebrating Jewish faith and culture.
Rabbi Edwards has seen the harm done to LGBT individuals when discrimination is preached by religious authorities and practiced by families and communities of faith, and she works to counteract that damage. From the AIDS crisis to marriage equality to protecting the environment (visit BCC's green building 6090 W. Pico Blvd. Los Angeles) to Judaism and Jewish sacred texts, Rabbi Edwards is a sought after speaker, teacher, writer, and clergyperson, advocating for the rights of LGBTQ people as well as serving their spiritual needs.
She is widely published in books on queer and Jewish topics, as well as on websites where her scholarship on traditional Jewish texts combines with the personal and the contemporary. Rabbi Edwards received a LACE AWARD for "outstanding contributions in spirituality" from the LA LGBT center in 2002, was named by The Jewish Daily Forward in 2013 in their first annual "36 Most Inspiring Rabbis," in 2014 as one of seven "LGBT Leaders and Legends" in the City of Los Angeles, in 2016 as a "Pioneer of LA Pride: LGBT Activist & Spiritual Leader." In 2019, on the cusp of her retirement, she received a "Rainbow Key Award" from the City of West Hollywood and a State of California "Woman of the Year" award from the 54th District of the State Assembly.
In addition to ordination as a rabbi and a masters in Hebrew Letters from Hebrew Union College-Jewish Institute of Religion (HUC-JIR) – the seminary of the Reform Movement of Judaism, Lisa Edwards holds a BA from Brown University, an MA from the University of Chicago, and a Ph.D. in English Literature from the University of Iowa.
Rabbi Edwards and her wife, lesbian activist and archivist Tracy Moore, have been together since 1985, marrying in a Jewish ceremony in 1995 and a California civil ceremony in 2008. Most of all, Lisa Edwards is known as a rabbi who understands the struggles of her congregation and speaks to the hearts of her congregants.
Contact Rabbi Edwards at lisa@bcc-la.org.